Offices for the aviation-space-defence sector at aéronum, Mérignac
Close to major groups: DASSAULT, THALES, SOGERMA, AIRBUS VOLTAIR, etc... Right next to Bordeaux-Mérignac airport.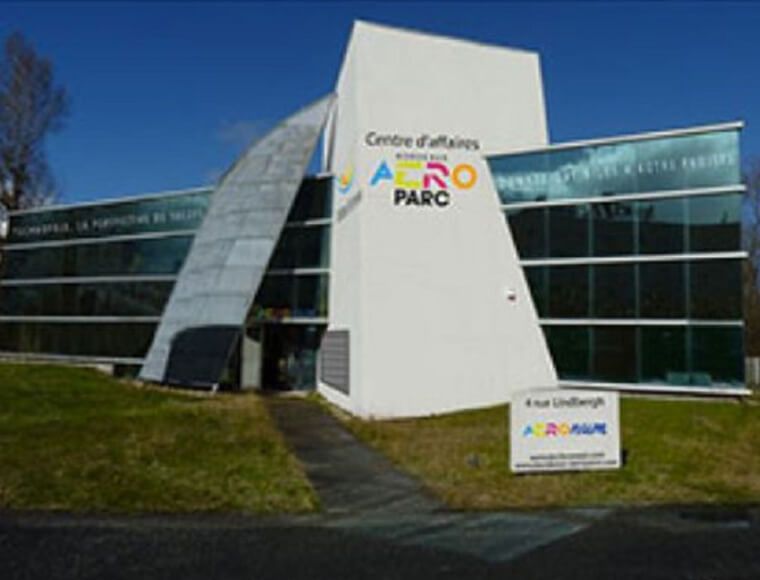 --> Our selection of offices to rent
Type of property
Offices or workshops of 20 to 150 m² with leases tailored to variations in activity
Location and access
Right next to Bordeaux-Mérignac airport, two minutes from the Rocade ring road, 20 minutes from the TGV high-speed train station (2 hours from Paris starting in July 2017) and access to public transport
Areas
Offices starting at 20 m²
Technical features and services
Within Aeronum (Bordeaux Aéroparc), 800 m² are available in the form of office / workshop space starting at 20 m². Leasing is adaptable to variations in your operations. You can make the most of personalised support (networking, contacts with local authorities, marketing information, etc.) and the high degree of synergy between companies and consulting facilities already on site. Within the business centre you can enjoy the following services: fully-featured conference rooms (video projector, audio conferencing), networking (access to partners and companies in the sector in the Aerospace Valley cluster), training offering, participation at shared trade fairs, mail reception, canteen. You will have access to the following technical tools: CATIA V5, portfolio of patents of major groups (CNES, Astrium, etc.), Test and Services Centre for autonomous systems (Centre d'Essais et de services sur les Systèmes Autonomes - CESA). Aéroparc de Bordeaux is 800 ha. close to Bordeaux Mérignac airport spread across the municipalities of Mérignac, Saint-Médard en Jalles and Le Haillan
Surface area: Starting at 20 m²
Car parking: yes
Internet: yes
Price
For rent
By using our investor support service, you will confidentially and within 48 hours, receive comprehensive information on each item needed to set up your project in France.