Industrial building 150 or 300 m² in village d'entreprises ActiBrais in Saint Nazaire (44)
Sale of sets of professional premises 150-300 m² in Saint-Nazaire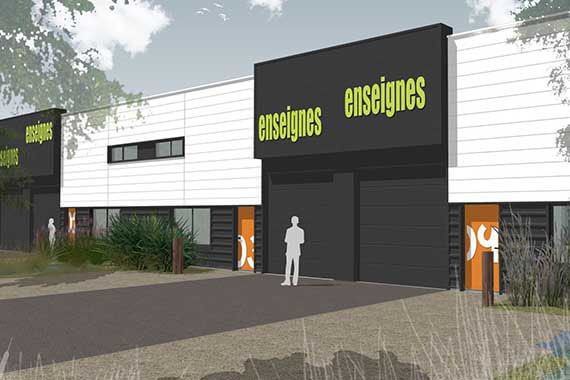 --> All our lands and industrial buildings for sale
Description
8 to 10 sets of 150-300 m² available now for sale in Saint-Nazaire.
Location and access
Saint-Nazaire
15 minutes from Grand Port Maritime, Nantes Saint-Nazaire
50 minutes from Nantes Saint-Nazaire airport
Surface areas
Surface areas:  Sets of 150 or 300 m²
Surface area:  600 to 1,000 m² per set
Technical features
Storage area and/or building extension
Modular interior development
Individual access and parking
Possibility of additional space on the floor above
Delivered unfinished, enclosed, networks pending
RT2012 insulation
Dual cladding
Front façade: Section door 3.50 m Rear Façade: section door 3.50 m or portal
Exterior storage space (available for future building extension)
Serviced
Enclosed
Charge: 1 T/m²
Price
This property is available for sale at €1,080 per  m² excl. taxes 
By using our investor support service, you will confidentially and within 48 hours, receive comprehensive information on each item needed to set up your project in France.