Dunkirk, simplify your development!
An industrial and logistics port area in the heart of a Northwest European market of 78 million consumers!
Our territory has always been an international region!

Our territory – located north of the Hauts-de-France Region – is a cross-border region (Benelux - Great Britain) in Northwest Europe. It is close to Lille (80 km), a growing European metropolis with one million inhabitants. It enjoys an exceptional geographic location, reaching a high-income consumer market. An ideal place to start your company in France ! 
An urban area of 250,000 inhabitants
5 European metropolises within 300 km (London, Paris, Amsterdam, Brussels and Luxembourg)
A developed industrial and logistics culture for decades
Dunkirk is the No. 1 port of the largest French port complex (Dunkirk, Calais, Boulogne-sur-Mer) totalling 90 million tonnes.
First link with the world, the port of Dunkirk – with its 7,000 hectares – ensures regular growth through its 2014-2018 strategic plan calling for €242 million of investments in transport, logistics and industrial development.
Furthermore, since three years the territory is fully involved in the ecological transformation of the Hauts-de-France Region, which has launched its "3rd industrial revolution," giving priority to the energy transition, the circular economy and the development of renewable energies like offshore wind.
Dunkirk, an international land: 38% of employees work for an international group.
A 100% multimodal territory that provides people and commodities maximum fluidity !
Maritime connections
The port of Dunkirk can receive any type of commodity: bulk solids and liquids, containers, breakbulk, etc., without forgetting passengers!
A tramping and regular lines port, it can secure the transit of all sizes of cargoes headed towards many other world ports spread over the five continents.
Elected best bulk port in 2016
3rd leading French port – 46 million tonnes
1st French port for containerised fruits and vegetables
2nd leading French port for exchanges with Great Britain: 16 million tonnes, including 700,000 freight units

Road connections
Motorway A25: to Lille (45 min) and Paris (2 hrs 30 min)
Motorway A16: to Calais and the Channel Tunnel (30 min), Boulogne sur Mer (45 min) and Brussels (1 hr 30 min)
Rail connections
The TGV (high-speed train) connects Dunkirk to Lille (30 min), Brussels (1 hr 15 min) and Paris (1 hr 30 min)
France's No. 1 commodities shunting yard; 200 km of port railway track
Waterway connections
A deep clearance canal provides access to the North European waterways network
Seine – North Europe project: Dunkirk will be connected to the Paris region by 2025
International air connections
Lille Lesquin airport 1 hour away
Paris Charles de Gaulle/Orly airports 3 hours away
Brussels Zaventem airport 1½ hours away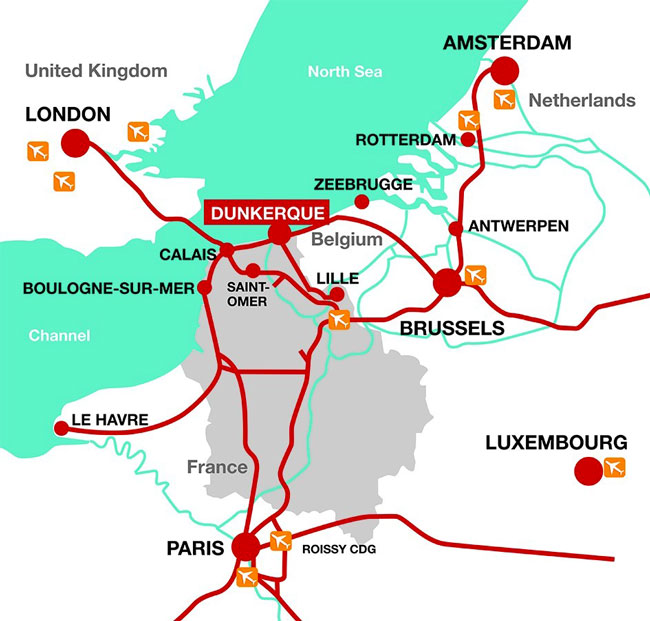 Dunkirk is an international industrial and port platform that is home to the biggest names in worldwide industry.
The presence of major groups is completed by a substantial network of SMEs. This industrial tradition is reflected in the state-of-the-art expertises and a concentration of maintenance and service companies available 24hr/day.
A diversification of sectors that consolidates the territory
Logistics/Transport
Dunkirk counts 4,800 jobs related to transport and port and land logistics (7% of local employment): 
Barra SNM, Bollore Logistics, Boluda, CFT, CMA CGM, Conhexa, D-Fresh Logistics, DHL, Geodis, Logistique Dunkerque, Marquis, Seatrade, SGD, Sofrino, Sotralim, TLN, Transalliance, UASC, etc.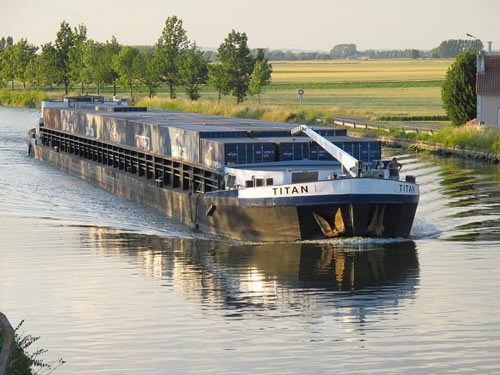 Agribusiness
The Nord-Pas de Calais is France's leading agribusiness region in terms of exports: 1/3 of revenues
Aquanord, Barry Callebaut, Cemoi, Coca-Cola, Delifrance, Euralis, Flandr'œufs, Grain D'or Gel, Lesieur, Marine Harvest, etc.
Energy
Dunkirk is the leading European energy hub with 5,000 jobs: nuclear or co-generation electric power generation, bio-fuels, LNG terminal, etc.
Daudruy, Dunkerque LNG, EDF, Engie, Nord Esther, Total, etc.
Chemicals/materials
Dunkirk is the France's 3rd leading chemical port platform.
Air Liquide, Aliphos, Astrazeneca, BASF, Distriplast, Ecocem, Ecophos, ENI, Harsco, Hyet Sweet, Kerneos, Minakem, Polychim, Ryssen Alcools, etc.
Metallurgy/Steel industry
The metallurgy/steel industry is the largest employer in Dunkirk industry.
Arcelor Mittal, Ascometal, Befesa, Dillinger, Entreprose Industries, Eupec, Fritzmeier, Ma Steel Valdunes, Rio Tinto Alcan, etc.
Digital – tertiary services
Our region is in the top 5 French regions in terms of information and communication technologies.
Coding & Bricks, DGL Networks, Easykdo, Ecobrico, ESI4U, OVH, Sinergence, Zetark, etc.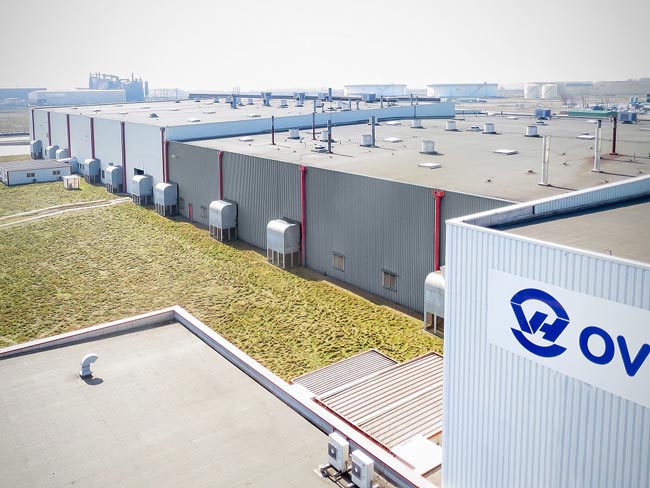 Services
With 44% of the territory's jobs, this sector is the No. 1 employer.
Companies in Dunkirk: AFEJI, APICEM, Arvato Services, CGRM, Cofely GDF-SUEZ, KPMG, Lyonnaise Des Eaux, etc.
All of these sectors could not operate without a developed and organised network of industrial maintenance companies, which historically is concentrated in Dunkirk to serve the major groups 24hr/day.
Actemium, Baudelet, CMI, Colas, Dalkia, Eurovia, Fourre Lagadec, Harsco, Laroque, Ponticelli, Prometa, Sarens, SPIE, etc.
Dunkerque Promotion, a consulting agency dedicated to companies!
The agency will be at your service throughout the stages of your project to locate in the Dunkirk area.
After analysing your needs, a business manager will accompany you on all the stages of your investment: the search for property or land, general and specific information, financing, interface with public authorities, local business networking and partnerships, recruitment, training, communication and follow-up after installation.
Our linguistic skills (English, German, Spanish and Dutch) mean we can work with you under the best conditions.
Because it is important to have thorough knowledge of the environment of your installation, we can – at any time – show you the entire territory so you can absorb what we have described above.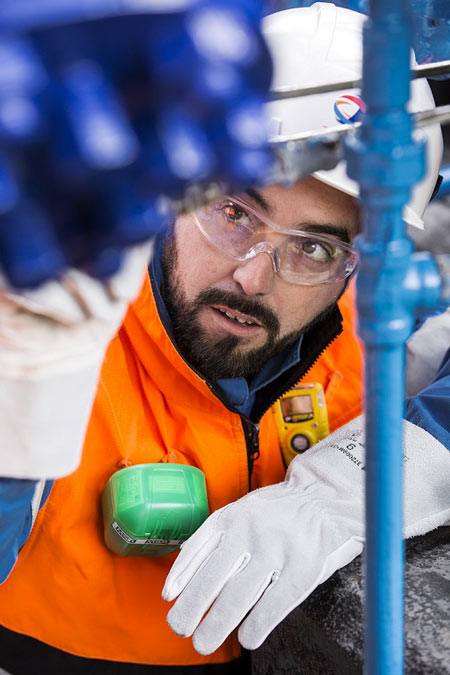 Dunkirk offers a qualified labour force with a strong corporate culture built on the territory's industrial tradition. The territory has experienced profiles (technicians, engineers, managers, labourers, etc.), which ensures that you will be able to fulfil your labour needs. Cross-border and multilingual (English, Dutch and French), this labour satisfies an international demand.
Research And Development
A Human and Social Sciences Research Centre
An Industrial Environment Research Institute (IRENI)
A Cold Technology Institute (INNOCOLD)
A Technological Research Centre (CEA Tech)
A Regional Centre of Excellence (ENERGIE 2020)
EURAENERGIE, a cluster project dedicated to the energy of tomorrow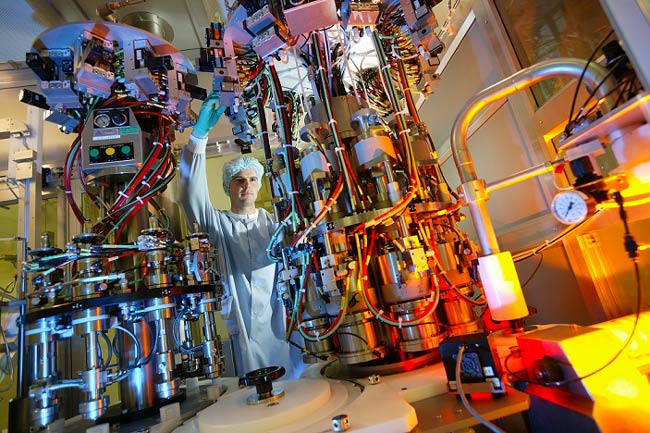 Education
1 business school (ISCID-CO) with 20 nationalities represented and 20% of students in a work-study programme
2,900 students at the University of the Littoral Côte d'Opale de Dunkerque
Multiple centres of professional training: AFPI, AFPA, APAVE Formations, SOCOTEC Formation, SIFOP, CEFRAL, CETR, etc.
The Nord-Pas de Calais is France's 2nd leading education hub with 160,000 students, 7 universities and more than 30 grandes écoles*
Innovation And Competitiveness Centres
Many regional innovation and competitiveness centres offer services in terms of technical know-how and technology :
I-TRANS (Land and rail transport )
TEAM² (Environmental Technologies Applied to Materials and Equipment)
AQUIMER (Aquatic products )
Nutrition Health Longevity
MATIKEM (Materials, chemicals and green chemistry)
Up TEX (Textile materials)
PICOM (Retail trade industries)
By using our investor support service, you will confidentially and within 48 hours, receive comprehensive information on each item needed to set up your project in France.